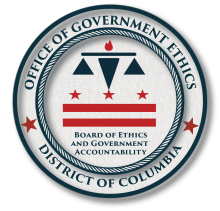 Instructions and contact information for reporting Ethics Violations.

The BEGA is charged with providing ethics advice to District Government Employees and Public. The Plain Language Guide to District Government Ethics is available through our Ethics Manual.

One of BEGA's core functions is to provide training's on all topics that are covered...

Financial Disclosure Statements must be filed by April 15, 2020.

Download documents pertaining to lobbying.