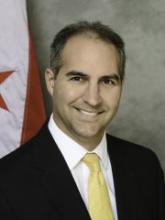 Darrin P. Sobin is the District's first Director of Government Ethics. He was selected by the members of the Board of Ethics and Government Accountability (BEGA) following their confirmation by the Council and subsequent swearing-in by the Mayor in the Summer of 2012. Mr. Sobin began his service in November 2012, assuming the day-to-day operations of the Office of Government Ethics which, under BEGA, has oversight and enforcement authority of all public officials and employees of the District government (approximately 34,000 individuals), including the Mayor and the Council.
Mr. Sobin was raised in SW, Washington, and attended grade school on Capitol Hill and High School at Archbishop John Carroll High School in NE. He graduated from George Washington University in 1988 and attended law school at the District's David A. Clarke School of Law where he graduated cum laude in 1992 (the school was formerly known as the District of Columbia School of Law).
Following law school, Mr. Sobin worked at the Office of Bar Counsel in Washington, DC where he assisted with the prosecution and imposition of attorney discipline, before accepting a judicial clerkship with the Honorable June L. Green in the United States District Court for the District of Columbia. After his clerkship, he worked in private practice for several years before joining the Office of the Attorney General for the District of Columbia in 2003, where he served as the government ethics counselor and as a member of the office's legal ethics committee, responsible for handling conflict of interest matters for the District.