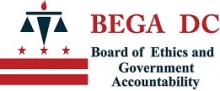 Last Date:
Details:
BEGA's 2019 Ethics Day will be held on October 3, 2019 at One Judiciary Square from 11:30 – 5:00 pm. This year's theme is "Cultivating an Ethical Government". We have scheduled various courses that are designed to educate employees on the ethics rules, behavioral ethics risks, and open government.
* Ethics Courses are available to only District government employees. FOIA and Open Meetings Act Courses are open to the public. 
Click on the link below for a list of the course offerings and to register.
http://www.eventbrite.com/e/2019-bega-ethics-day-cultivating-an-ethical-government-tickets-49229908983