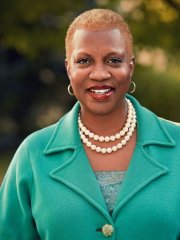 Norma B. Hutcheson retired from the position of Deputy Managing Counsel for the Capital Metro Law Office of the United States Postal Service Law Department, effective January 3, 2016, after 36 years of service in the federal government, 35 of which were with the Postal Service. She served as liaison and legal counsel to senior postal management and represented the Postal Service in unique cases of significant organizational impact. She managed, litigated and trained in the areas of labor and employment law, ethics, and revenue protection. Starting her legal career at the United States Postal Service in 1980, she also held other positions as acting manager and attorney/advisor at Postal Service Headquarters (where she practiced with the Rates and Classification Group) and its Eastern Regional and Mid-Atlantic Field Law Offices.
Norma has served on the National Bar Association (NBA) Board of Directors as Regional Director for Region XII. She is a past president of the Greater Washington Area Chapter of the Women Lawyers Division, NBA ("GWAC") and past chair of the GWAC Foundation, Inc. Norma has been an active participant in the Lawyers Committee for Civil Rights Under the Law/NBA Election Protection project. She served as Secretary to the Board of the Women's Bar Association Foundation and as a board member of the Women's Bar Association of DC. She also has served as Vice President for Programming and Treasurer for the Potomac Chapter (VA) of The Links, Inc. and historian and Chair of the Social Justice and Human Rights Committee for Alpha Kappa Alpha Sorority, Incorporated, Theta Omega Omega Chapter. She was on the Board and was treasurer for Ivy Vine Charities, Inc. until December 2015. She has been a Loaned Executive to the Combined Federal Campaign for the National Capital Area.
Norma currently is chair of the Issues and Resolutions Committee for the NBA and has served in this position since 2004. She is Health and Human Services Chair for the Eastern Area of The Links, Inc. She chairs the Family Strengthening Committee for Alpha Kappa Alpha Sorority, Inc., Theta Omega Omega Chapter. She sits on the Board of the YMCA for Metropolitan Washington. She is a deacon at Zion Baptist Church in northwest Washington, DC and secretary to Zion's Board of Church Administration. She is a member of Leadership Greater Washington – Class of 2000.
A native Washingtonian, Norma is a graduate of Bucknell University (B.A. in History and Political Science) and the University of Pennsylvania Law School (J.D.). She is admitted to practice in the District of Columbia (active) and the Commonwealth of Pennsylvania (inactive).