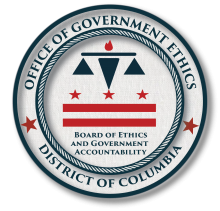 Read BEGA's Ethics Manual in order to obtain thorough guidance on how to file a complaint.
Complete and submit the online Complaint Form.
You may also submit the printable PDF version of the complaint form and submit it to BEGA in hard-copy format. The printable PDF version is available here and below this description area.
Complete this form to report government ethics violations. You may remain anonymous. Should you choose to identify yourself, your identity will be protected to the maximum extent allowed by law. Please note that identifying yourself may aid the investigation so that the BEGA may contact you to obtain additional information. Retaliation against an employee for reporting information to the BEGA by a government employer is prohibited. Please be specific and provide as much detail as possible – the who, what, where, when and why of the matter. The more information you provide, the more thorough any resulting BEGA investigation can be.
BEGA is committed to its mission.