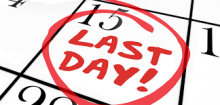 Last Date:
Details:
ALL FINANCIAL DISCLOSURE STATEMENTS ARE DUE TO BEGA ON WEDNESDAY, JULY 15, 2020. Public filers must file via our e-filing system and confidential filers must file with their respective agencies. BEGA does not accept hard copy Financial Disclosure Statements. 
To request an extension of the FDS filing deadline, email the FDS Inbox. All extension requests must be received on or before July 15th. 
For technical issue while filing the form, submit a Help Ticket.
To review FAQs, click here or here. 
To confirm that your form was successfully submitted to BEGA, search for your filing with our "Financial Disclosure Filing System Search".
If you have questions about your filing designation, please contact your agency's Ethics Counselor or General Counsel.
https://bega.dc.gov/service/financial-disclosure-statements
Contact:
Office of Government Ethics